How best to spend your time with friends and a game of Poker? Well, the elements of fun lie in the game itself! However, there are ways to stimulate the idea of fun in a good Poker game as well, and one of the most suited ideas for this would be 'Music'. Music practically segues quite smoothly in all the activities that we do in our life. So why not Poker? A good game in midst of friends and family, while a good piece of music in the background – everything will transcend towards an experience that will be both joyous as well as exciting.
Here are a few genres that players can try out at a Poker game, along with friends and family: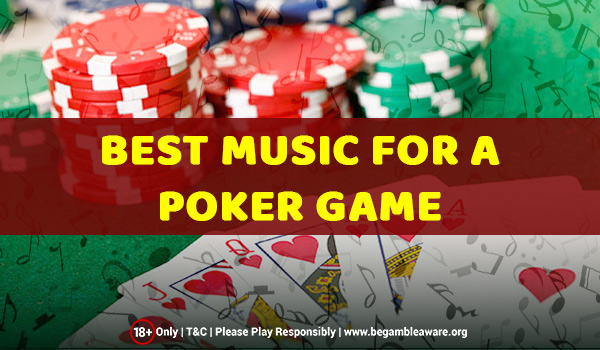 Smooth Jazz
Smooth Jazz is probably something that could be enjoyed anywhere, anytime – be it while at work or while practising any hobby. Smooth jazz can be played at a Poker game venue where the serene music will not affect the focus of players in making the right gambling choices, but also keep their cool. The synchronous walking basslines and the saxophone solos would just be an amazing blend with the gameplay!
Blues
And by blues, we do not mean country blues but more of the serene kind. Blues music would complement with the gameplay which would not be distracting enough for players, but also is fun to listen to. Old school blues is something that is enjoyed by all and the smooth guitar solos with the pentatonic scales would be appreciated at game venues as well. Not only professionals belonging to the older demographic, but even the young generation would appreciate the good, rich music of Blues throughout the gameplay.
Hip-Hop
Again, not with those uppity beats, but more of a smooth transition as in Neo-fusion/jazz Hip Hop. The smooth, slow beats along with the transcendental music and bassline will make everyone groove with the music. Such songs do not distract people but make the vibe incoherence to the much-needed attention and focus plus the fun that's needed in the Poker game.
R&B
Rhythm and Blues is a combination of the smooth soulful music of Blues genre and the groove of Rhythm music. This genre could be a perfect combination of both worlds that will fit in the pockets of the likes of most players. R&B can be both enjoyed and grooved to at a fun game party venue.
Probably, it's better to understand that any music is good until and unless there is not too much of a distraction involved. A game that requires implementation of tactics and strategy would need focus and cannot afford to be distracted by any form of loud, fast-paced music. Also, lyrical content could be avoided since it might drive the attention of the players in interpreting its meaning!
Red Spins – The perfect place to experience a Poker game
Are you looking for a fun-filled, yet thrilling experience in a game of Poker? Look no more as Red Spins brings you the best platform to enjoy the best games that are available in its wide selection of online casino games. The best thing about this place is its accessibility over a mobile/tablet or even a desktop – to access it at your own comfort and convenience in your own home! Safe transaction and decent payouts are just a few of the feathers on its cap that makes this place an experience to behold!